June 16, 1902 - October 6, 1984
From
Today In Science History
: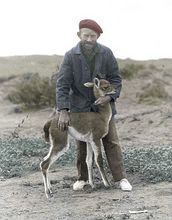 Simpson
is known for his
contributions to evolutionary theory
and to the understanding of intercontinental migrations of animal species in past geological times.
Simpson specialized in early fossil mammals, leading expeditions on four continents and discovering in 1953 the 50-million-year old fossil skulls of dawn horses in Colorado.
Simpson
helped develop the modern biological theory of evolution
, drawing on paleontology, genetics, ecology, and natural sel
e
ction to show that evolution occurs as a result of natural selection operating in response to shifting environmental conditions. He spent most of his career as a paleontologist at the American Museum of Natural History.
image.