A tip of the fedora to the late, great Willis O'Brien who breathed life into the fur and armature that become
King Kong, the Seventh Wonder of the World!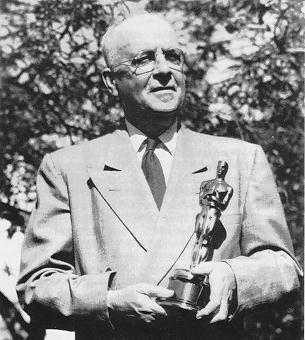 His biography from
Leonard Maltin's
Movie Encyclopedia:
Willis O'Brien
(March 2, 1886 - November 8, 1962)
Special effects wizard best known to the world as the man who created King Kong. O'Brien was a sculptor and cartoonist for the San Francisco "Daily News" before he first dabbled in the medium of film during the 'teens. His work caught the attention of the Edison company, for whom he produced several short subjects with a prehistoric them.Titles include The Dinosaur and the Missing Link, RFD 10,000 B.C and Prehistoric Poultry. His method of animating small rubber figures, carefully molded over metal skeletons with movable joints, by moving them a fraction of an inch for each frame of film exposed, became the standard process of live-action animation. In 1918 he made his most ambitious film yet, The Ghost of Slumber Mountain paving the way for The Lost World (1925), a major Hollywood feature which told of a search for prehistoric creatures. O'Brien's dinosaurs were his most realistic yet, and still impress today, even in the wake of Jurassic Park Still, Obie (as he was known) kept experimenting. When producer Merian C. Cooper saw his work, he hired O'Brien to animate King Kong (which, up to that point, was to have been shot with an actor in a gorilla suit). The extraordinary success of King Kong (1933) spawned an immediate sequel, The Son of Kong (also 1933), and made O'Brien a hero to several generations of fantasy filmmakers to come. O'Brien won his only Oscar for his effects in Mighty Joe Young (1949), another giant-monkey movie, on which his protégé (and successor) Ray Harryhausen worked. O'Brien worked on other giant-monster movies (including 1957's The Black Scorpion his last) before dying in 1962. Today, O'Brien would be kingpin of his own studio, but even in the wake of King Kong he had trouble launching other film projects, and many promising ideas languished on studio drawing boards for decades to follow. One of the RKO staff with whom he'd worked in the 1930s, Linwood Dunn, gave O'Brien his final employment, doing stop-motion figures for It's a Mad Mad Mad Mad World (1963).
In 1950 O'Brien received (finally!) a special Oscar for his work on
Mighty Joe Young
which was the first such award ever given for special effects. This film also launched the career of the next great stop-motion animator,
Ray Harryhausen
.