"In the misty reaches of the prehistoric past – in the days before the fall of the great lizards – there lived a creature, the likes of which the world had never seen. In his time, he strode through the Valley of Flame like a giant, red-scaled demon – his only companion, a young Dawn-man called Moon-Boy…Stan Lee presents: A TEMPEST-TOSSED TALE OUT OF TIME!"
Art © Dan Brereton. Devil Dinosaur © Marvel Comics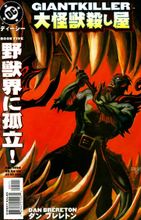 The above drawing of Jack Kirby's "
Devil Dinosaur
" is by the Palaeoblog's good friend,
Dan Brereton
. Although he doesn't draw a lot of dinosaurs, he does specialize in dark and creepy Halloween-inspired characters like his own
Nocturnals
. I got to know Dan when I helped him kick around some scientific concepts for his book
"Gaintkiller
" a few years back.
Go
HERE
to visit Dan's own web site.
To read all about Marvel Comic's very first issue of "Devil Dinosaur" click
HERE
to go to Scott Shaw's! Oddball Comics.
For more info on the Devil Dinosaur go over to the
Kirby Comics Blog
.
Giantkiller © Dan Brereton