From the UC Berkeley
press release
:
A lawsuit by a Roseville couple who claimed that a University of California, Berkeley, website used evolution to promote religion was dismissed Monday, March 13, in San Francisco federal court.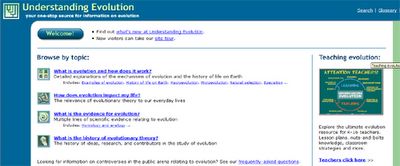 Without ruling on the merits of the suit, Judge Phyllis J. Hamilton of the U.S. District Court for the Northern District of California granted the University of California's motion to dismiss the case on the grounds that the plaintiffs lacked standing – that is, they did not have a sufficiently strong personal interest in the outcome of the case.
"We are very pleased with the judge's decision and are hopeful that the defendants can now concentrate on helping to educate students about science," said Christopher M. Patti, university counsel with the UC Office of the President.
The lawsuit named not only two UC Berkeley professors, but also an administrator at the National Science Foundation (NSF), which partly funded the website. Judge Hamilton has yet to rule on NSF's motion to dismiss.
"The lawsuit cost us a lot of time, in terms of preparation and reviewing and Xeroxing a lot of paper, plus the legal fees," said Roy Caldwell, one of the UC Berkeley professors named in the suit.
"I'm glad the court saw that the case should be dismissed."Visit the excellent "Understanding Evolution" website.