"
When a man is wrestling a leopard in the middle of a pond, he's in no position to run
."
Cary Grant as paleontologist David Huxley
Coming in at #97 on the American Film Institute's
list of greatest films
, '
Bringing Up Baby
', co-starring Cary Grant and Kate Hepburn, is acknowledged as the archetypical screwball comedy.
Directed by Howard Hawks in 1938,
Grant plays paleontologist David Huxley
who is trying to secure a $1,000,000.00 endowment for his museum. He meets up with Hepburn's seemingly scatterbrained heiress,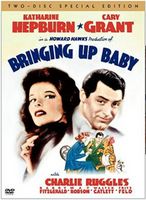 Susan Vance, who becomes determined to derail Grant's next day wedding.
Over the course of the next 24 hours Grant gets completely mired in Hepburn's whirlwind ad hoc plans to catch her new (and completely reluctant) beau that includes hunting for her leopard (the 'Baby' of the title), having her steal his clothes, ending up in jail, falling in a stream, and finally losing his "intercostal clavicle" to Hepburn's dog that was to be
the final element needed complete the

Brontosaurus

skeleton
he's been working on for four years.
The fast-paced, witty script, sharp direction and comedic chemistry between Grant and Hepburn all combine to make this film worthy of multiple repeat viewings.