Mantell (Feb. 3, 1790 – Nov. 10, 1852), a physician of Lewes in Sussex in southern England, had for years been collecting fossils in the sandstone of Tilgate forest,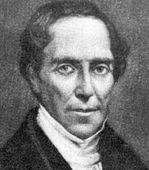 and
he had discovered bones belonging to three extinct species: a giant crocodile, a plesiosaur, and Buckland's Megalosaurus.
But in 1822 he found several teeth that "possessed characters so remarkable" that they had to have come from a fourth and distinct species of Saurian. After consulting numerous experts,
Mantell finally recognized that the teeth bore an uncanny resemblance to the teeth of the living iguana
, except that they were twenty times larger.
In this paper, the second published description of a dinosaur, he concluded that he had found the teeth of a giant lizard, which he named
Iguanodon
, or "Iguana-tooth."
Mantell illustrated his announcement with a single lithographed plate. Mantell included at the bottom of the plate a drawing of a recent iguana jaw, which is shown four times natural size, and for further comparison, he added views of the inner and outer surface of a single iguana tooth, "greatly magnified."
The traditional story that Mantell's wife found the first teeth in 1822, while the doctor was visiting a patient, appears, alas, to be unfounded.
Info and plate from HERE.