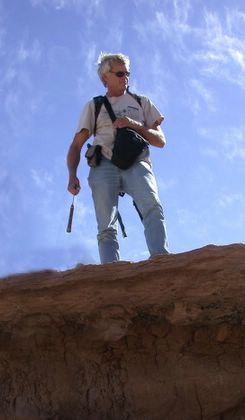 Friday, Sept. 30th, was Phil Currie's last day at the Royal Tyrrell Museum.
Phil and Eva are now up in Edmonton, Alberta, and ready to take on the new challenges of working at the University of Alberta. The U of A has always had a reputation for excellence in palaeontology (vertebrate and otherwise) thanks to the fine work by people like Mark Wilson, Richard Fox, Mike Caldwell, and many others.
Phil will rapidly establish the U of A as a "center of excellence"
for dinosaur and related research, and he has already accepted several graduate students who will help to shape the future of dinosaur palaeobiology.
The palaeoblogger tips his hat to the joint team of Phil & Eva and wishes them all the best for the days ahead!
Above: A snap of Phil in a 'Doc Savage" pose from this summer's trip to Mongolia.