A variety of photos taken during our too brief visit to the famous Flaming Cliffs of Mongolia.
Phil Currie holds up a fragment of dinosaur eggshell against a backdrop of the cliffs. For scale Ito (in the photo below) is standing behind the tiny projection on the top of the cliff that is directly below Phil's thumbnail.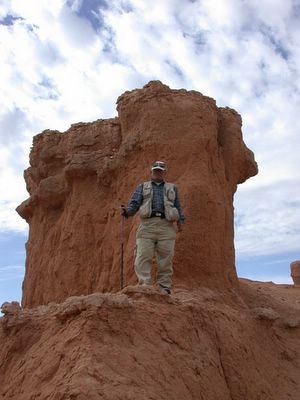 Ito Yoshio explores the Cliffs.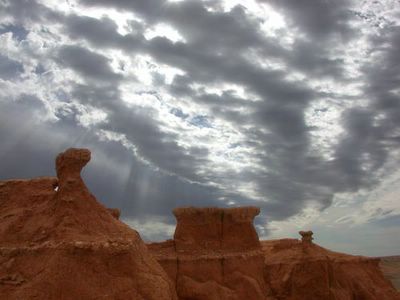 Some dramatic lighting
.
Darren Tanke strikes a Roy Chapman Andrews-like pose against the Cliffs.
The Turtle Cafe located about 2 km from the Cliffs. The area has become commericalized and, in addition to the camel rides (below) being offered, one can also buy fossils collected from the region at one of several dealer tables at the top of the Cliffs.
Unfortunately there is no protection for this and other important fossil areas in Mongolia and the fossils are rapidly being stripped away by poachers. At the rate it's occurring there will be very little left to collect within a few years.
Part of our crew ride the camels.
Dr. Greg Erickson bonds with his camel.
All photos © Michael Ryan