The tracks of a previously unknown, two-legged swimming dinosaur have been identified along the shoreline of an ancient inland sea that covered Wyoming 165 million years ago, according to a University of Colorado at Boulder graduate student.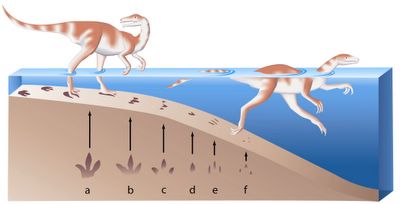 The illustration shows a swimming dinosaur leaving deep, complete footprints in shallow water and incomplete footprints as it gradually loses contact with the sea floor. Illustration courtesy Debra Mickelson.
From
EurekAlerts
:
Debra Mickelson
of CU-Boulder's geological sciences department said
the research team identified the tracks of the six-foot-tall, bipedal dinosaur at a number of sites in northern Wyoming
, including the Bighorn Canyon National Recreation Area. "It was about the size of an ostrich, and it was a meat-eater," she said.
"The tracks suggest it waded along the shoreline and swam offshore, perhaps to feed on fish or carrion."
"The swimming dinosaur had four limbs and it walked on its hind legs, which each had three toes," Mickelson said. "The tracks show how it became more buoyant as
it
waded into deeper water --
the full footprints gradually become half-footprints and then only claw marks."
Read the full story
HERE
.